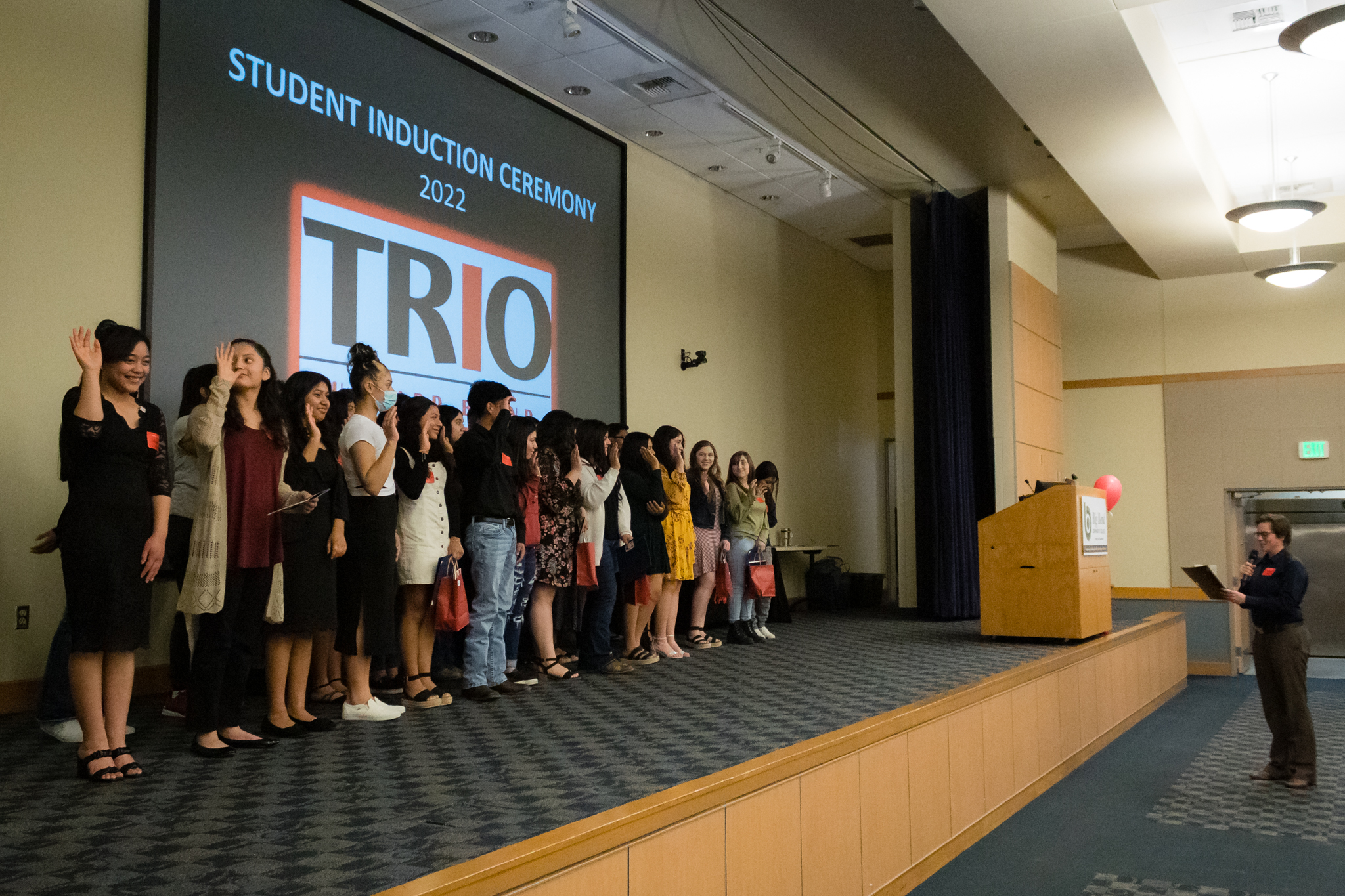 MOSES LAKE — Thirty-four high school students from Grant and Adams counties were formally welcomed into Big Bend Community College's TRiO Upward Bound Program Monday night.
The program aims to get more high school students into college, and by joining Upward Bound, students are pledging their commitment to pursuing a college education. That commitment is a big deal, and deserves to be recognized, said Big Bend TRiO Upward Bound Director Anita De Leon.
"You should feel very proud," she told students. "TRiO students are four times more likely to earn a college degree than similar students who don't participate. The statistics are on your side, you will be successful."
This year's inductees come from Moses Lake, Warden, Royal City and Othello high schools. Students were individually celebrated before coming together to take their official Upward Bound oath, which was delivered by Big Bend president Dr. Sara Thompson Tweedy.
Students also heard from former TRiO Upward Bound graduate and current Big Bend TRIO Student Support Services (SSS) director Veronica Guadarrama, who spoke about her experiences with the program and the impact it had on her academic journey.
Guadarrama shared how her parents had always wanted her to attend college, but they didn't know how to help her get there. That changed when she was introduced to the TRiO Upward Bound program in high school.
Guadarrama said one of the great things about TRiO is that staff supports their students both academically and personally.
"TRiO is more than just having an advisor to help you get to college. TRiO means family, a family that helps you with the ups and downs, the happy and sad," she said. "I really made connections and I grew as an individual, especially my first summer (in TRiO)."
Guadarrama finished high school and was accepted into Central Washington University, where she had the opportunity to participate in their TRIO Student Support Services and TRIO McNair Scholars programs.
"All of this involvement made me realize I wanted to do more. I wanted to help students in their college journey like I had been helped," she said.
As TRIO SSS director, she now works alongside her team as they help more than 200 Big Bend students each year achieve their educational goals.
Guadarrama told the group of new inductees that whatever their goals were, TRiO staff would help them get there.
"Sometimes as first-generation and low-income students, we limit ourselves because of fear," she said. "But if you believe in yourself, put in the hard work, and ask for help along the way, then you can do anything."
The Upward Bound program at Big Bend has been on campus since 1967 and is one of the oldest Upward Bound programs in the nation. TRiO advisors help students who are from low-income backgrounds and who are often first-generation college students, with anything and everything college related- including tutoring, assistance with college and financial aid applications, and SAT/ACT preparation.
In addition, students participate in a variety of cultural and social events while in the program. They also participate in the TRiO Upward Bound Summer Academy, which is held each year on the Big Bend campus.
The program is currently serving 114 students this academic year.
Full list of inductees, by school:
Moses Lake High School
Maripaz Santillan Chagollan, Fabian Delgado, Guadelupe Marquez Diaz, Brandon Mendivil Berrelleza, Nevaeh Nichols, Diego Peña, Sandra S Saucedo, Monica Villa, Brianna G Villanueva
Royal High School
Alexander Arceo, Miguel Dominguez-Hernandez, Ingrid Montalvo, Azury Santillan Lopez, Alan Amado Victoriano, Rubi Aguirre Zuniga
Warden High School
Joseline Becerra Gonzalez, Fabian Dominguez-Fernandez, Brianna Fernandez Antillon, Jannet Hinojosa- Dominguez, Graciela Martinez Castillo. Dulce Perez-Dominguez, Miliany Pruneda, Magaly Rangel- Arriaga, Antonio Cabrales Martinez, Santos Juarez Naranjo, Maritza Lino Cuevas
Othello High School
Alan Lopez- Rosas, Leslie Pineda Rodriguez, Kimberly Gonzalez Pineda, Yair Contreras, Mariana Maldonado Herrera, Naylene Garza, Griselda Sontay-Baten, Yamilet Romero Soriano
Article Source: Big Bend Community College