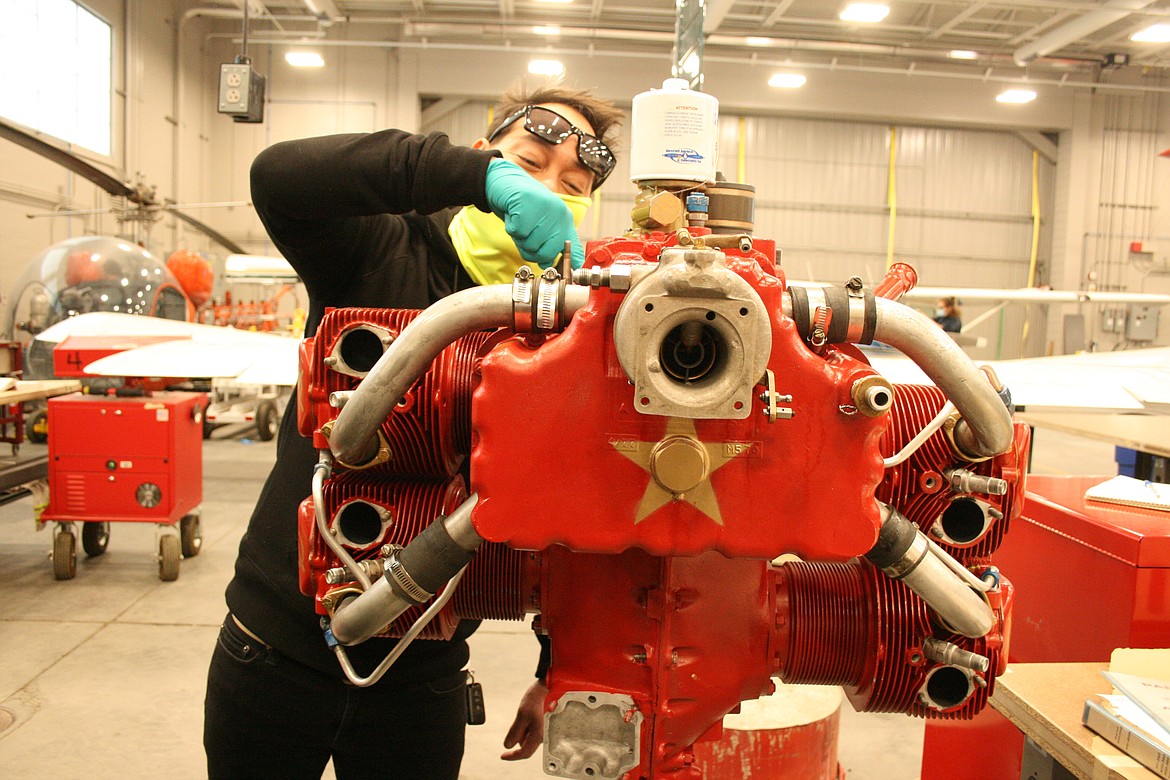 By CHERYL SCHWEIZER, Columbia Basin Herald
MOSES LAKE — Christine Kelly said she was looking for training opportunities when she found some online information about the aviation maintenance technology program at Big Bend Community College.
Kelly, from Bellevue, said she knew she wanted a job where she could work with her hands. But there didn't seem to be as many opportunities for that kind of training in Bellevue. She started looking at aviation maintenance programs around the state, and BBCC had something many of the others lacked.
"Big Bend had dorms," she said.
She didn't know anything about aviation or aircraft maintenance, she said. She had never heard of the Federal Aviation Administration (FAA). But when she graduated from BBCC, she had a job waiting for her and got so interested in aviation she enrolled in BBCC's pilot training program.
"Flying is the fun part," Kelly said.
Instructor Chris Dinges said there's an old saying in aviation: every pilot should want to be a mechanic, and every mechanic should want to be a pilot.
The aviation maintenance technology (AMT) program attracts students from throughout the state. Corey Tyron commutes to class from Tri-Cities.
"Every day," he said.
He heard about the AMT program from his uncle, a 1990s graduate, and it's the closest program available to Tri-Cities. It's been worth the drive, he said.
Wednesday afternoon he was writing down the specs of the connecting rods for a piston aircraft engine, trying to get the measurements down to a 10,000th of an inch, per the FAA guidelines.
"It's not difficult, but it is," he said.
Precision is important in aviation – after all, if there's a mechanical problem in flight, a pilot can't just pull over to the side of the road.
Michael Veenendaal and Caleb McGrady were giving a single-engine aircraft the equivalent of a 100-hour inspection. The wing was the first focus.
Maintenance technicians examine every inch, and it's all documented. The AMT students compared their findings to the existing record, as would be the case in an actual inspection.
"If you change a light bulb, you have to document it," McGrady said.
McGrady transferred to BBCC from a training program in Spokane, and said he's been impressed. Big Bend provides students with tools, something the previous program didn't.
"I wish I'd started here," he said.
To read the full article, visit the Columbia Basin Herald website.
Article Source: Big Bend Community College