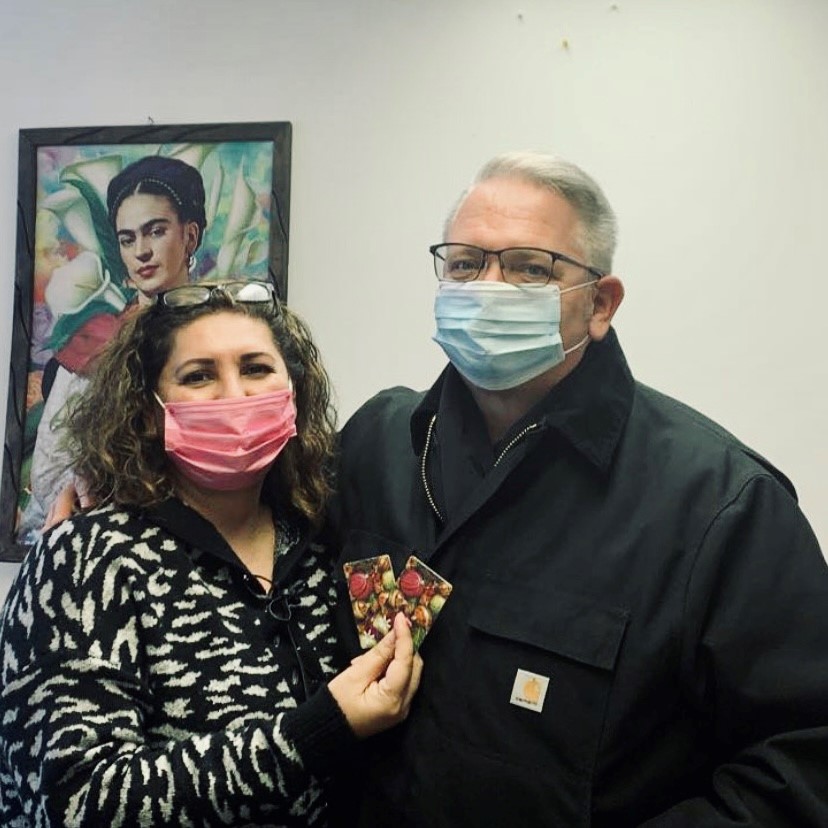 MOSES LAKE — Thanks to recent community donations, Viking Food Pantry staff have been able to reach more students with essential food items, holiday meals and Christmas toys this winter.
Right before Christmas, local alumni-owned business The Green Seed donated food items and children's toys for the food pantry to distribute with their Christmas meal boxes.
And with the new year came a donation from the Grant County Sheriff's Office.
"An anonymous person donated $1,000 in gift cards to the sheriff's office to help people in need," said GCSO Public Information Officer Kyle Foreman. "Deputies were quick to think of the Viking Food Pantry as a recipient due to the partnerships built between the college and the Sheriff's Office. $200 worth of cards was then donated to the Viking Food Pantry."
Donations like these go a long way in helping stock food pantry shelves, said BBCC Career Services Coordinator Jody Bortz.
Since opening, the Viking Food Pantry has become a major resource on campus, providing those in need with access to nutritious food, non-perishables, and personal care products.
Each quarter the food pantry distributes upwards of 3,000 to 4,000 pounds of food to students. This includes fresh produce, meat, dairy, eggs and various non-perishables such as grab-and-go microwave meals, macaroni and cheese, peanut butter and top ramen.
The food pantry receives a portion of its food through its partnership with the Moses Lake Food Bank. The rest is from generous donations from college faculty and staff, student clubs and members of the community.
Food insecurity, or being without reliable access to affordable and nutritious food, is one of many boundaries that can keep college students from getting an education. Food pantry staff have noticed that more students have been experiencing food insecurity as a result of the COVD-19 pandemic.
"The Viking Food Pantry has seen increased need this year and as the pandemic has progressed," said Bortz. "After a record allocation of Thanksgiving meals, it became apparent Christmas meals were also a need."
Food pantry staff were able to serve 35 additional Christmas dinners, with 30 of the families receiving toys for their children as a result of the donation from The Green Seed.
Toy donations also came from Big Bend faculty and staff.
"We were overjoyed with the option of providing our student families with Christmas toys to put under the tree," she said. "For many of our students this was their only Christmas toys."
About the Viking Food Pantry:
The Viking Food Pantry serves all Big Bend Community College students or employees who are in need. It provides frozen meats, fresh and canned fruits and vegetables, dairy products, various non-perishables, personal care products, baby food and formula and connections to community and campus resources.
Current Winter Quarter hours are 10 a.m. to 7 p.m. Monday through Thursday and 9 a.m. to 2:30 p.m. on Fridays. Appointments can also be made outside of regular hours.
To access an online food request form, visit the Viking Food Pantry webpage.
Article Source: Big Bend Community College