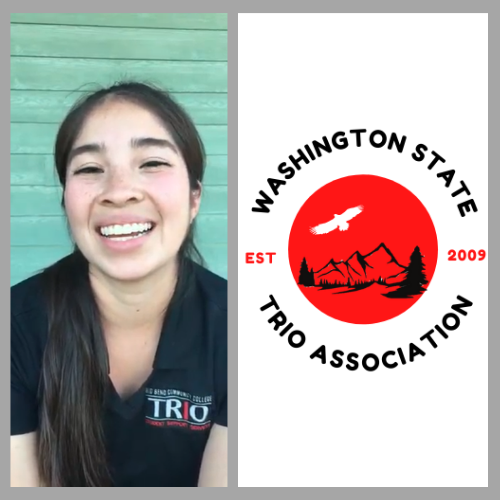 MOSES LAKE — Big Bend Community College TRIO Student Support Services (SSS) Director Veronica Guadarrama was recently tapped to serve as president of the Washington State TRIO Association (WSTA).
WSTA is a group of TRIO professionals who provide a venue to support the success of low-income, first-generation and underrepresented students to obtain a quality education. WSTA helps these populations by promoting program development, disseminating best practices/high impact educational practices and collecting data on the students' specific educational needs to assist our first-generation, low-income populations better.
The association also sponsors professional conferences, meetings, training, mentoring and other educational forums for its members throughout the calendar year. As president, Guadarrama will lead the board of directors in its initiatives and serve as the state's voice at the regional level.
"My goal is to build stronger relationships with programs across the state, increase individual participation at the state level, including my staff's participation, and to improve internal processes and procedures," said Guadarrama.
Guadarrama has worked at Big Bend since 2017. She was named TRIO SSS Director in 2018.
Guadarrama said it has been rewarding working alongside her team as they help students attain their educational goals.
"College students are a great population to work with because they are working to achieve their dreams," said Guadarrama. "First-generation and low-income students especially may be creating financial, generational, and cultural change in their families and communities."
Working with TRIO students in particular has been especially rewarding for Guadarrama because she participated in TRIO programs herself while in high school and college.
"I attest my success to TRIO programs and advisors and mentors throughout my journey. I actually participated in TRIO Upward Bound at Big Bend in high school, which was invaluable to me in learning about the college application process," she said. "At CWU, I participated in the College Assistance Migrant Program (CAMP), TRIO Student Support Services, and the TRIO Ronald E. McNair program. TRIO, for me, has always been a place to find direction and encouragement when needed."
About TRIO Student Support Services
The TRIO SSS program at Big Bend has been on campus for more than 30 years. The goal of the program is to help motivate students to attain their educational goals, graduate and/or transfer to an institute of higher education.
TRIO advisors provide academic advising, transfer support and personal development for students who are from low-income backgrounds and who are often first-generation college students. The program also supports students with disabilities.
The program previously served up to 190 eligible students each academic year, but with the addition of the SSS STEM Grant in 2020, TRIO staff have been able to serve an additional 120 students each academic year.
For more information, visit the TRIO SSS program webpage. Current students interested in applying to the program can use the TRIO SSS online application. Students will need to have their BBCC Student ID number and their cumulative high school GPA to complete the application.
Article Source: Big Bend Community College