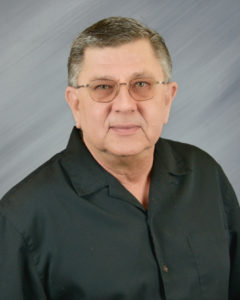 MOSES LAKE — Big Bend Community College Computer Science Specialist Tom Willingham was recently recognized for his work in promoting and pursuing innovative approaches to STEM education.
Willingham is a finalist for the NCW Tech Alliance's 2021 Innovator Awards, an annual event recognizing local innovation and leadership. He is one of three finalists being considered for the group's STEM Champion of the Year award.
Since 2000, NCW Tech Alliance (formerly known as the Greater Wenatchee Area Technology Alliance) has used its Innovator Awards to celebrate community members who are pioneering movements in technology, entrepreneurship, and STEM education. Each year, the organization considers businesses and individuals for five awards— Entrepreneur of the Year, Newcomer in Technology, STEM Champion of the Year, STEM College Student Innovator of the Year and (K-12) Future Technology Leader of the Year.
The STEM Champion of the Year award recognizes educators and community members who are pursuing innovative approaches to learning through STEM experiences. These individuals also demonstrate a passion for STEM education and are seen by their peers and community as advocates for promoting STEM pathways for students.
While at Big Bend, Willingham has helped create new programs in the college's Computer Science division, including a Computer Science transfer option and variations to existing degrees that support local Data Centers— including the Systems Administration, Industry Specific Emphasis and Manufacturing and Process Technology, Mission Critical Operations Emphasis. He also helped design the BBCC Data Center training program, which prepares students for high-demand Information Technology careers.
"For me, the key was building new programs that would satisfy the most options for students. From the beginning, I realized that besides a good-paying job, what really matters to the students is the relationships they can build with each other but more importantly, within their industry," said Willingham. "So, the most significant accomplishment has been in creating cohorts that foster their relationships and work-based learning opportunities that connect them directly to people in their industry. Of course, I never want to 'shut the door', so I made sure that the pathways also lead to bachelor's opportunities for those who want them, whether they initially realize it or not."
Willingham has also participated in statewide, national and international STEM education initiatives.
"STEM opportunities are everywhere and way outnumber the qualified applicants, so that is why I find it imperative to continue STEM exploration," said Willingham.
The 2021 Innovator Awards luncheon will take place virtually Sept. 29.
For more information on the Big Bend Data Center training program and other Computer Science offerings, visit the BBCC Computer Science program website.
Article Source: Big Bend Community College