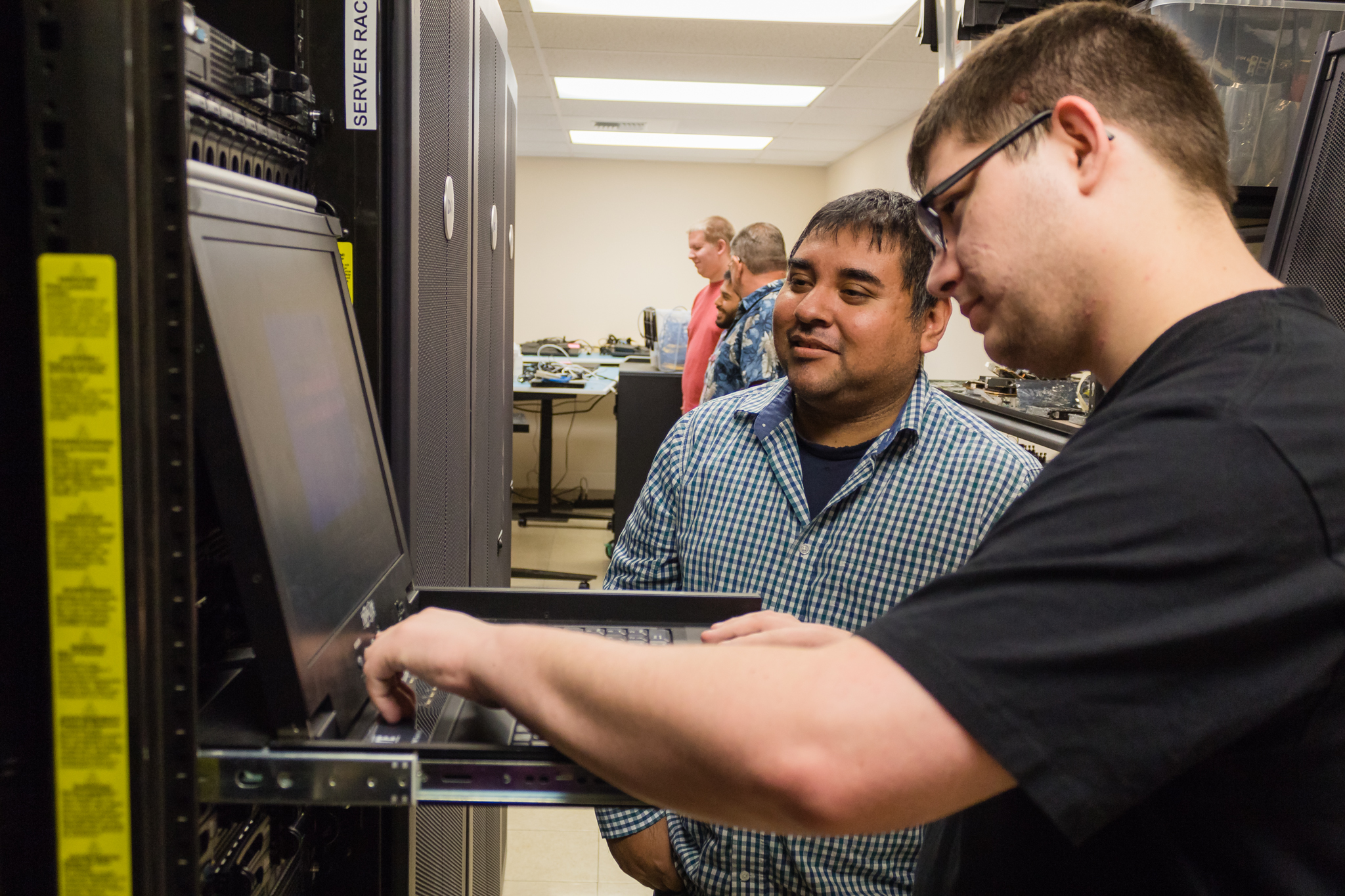 MOSES LAKE — Get ready for a high-tech, high-demand career in Information Technology with Big Bend Community College Data Center training program offerings. All degree and certificate options are designed to prepare students for immediate, entry-level employment in a rapidly growing industry.
According to the U.S. Bureau of Labor Statistics, eight of the nine fastest-growing occupations are in IT, in fields such as network administration, information systems security, and software development. The expansion of data centers in Quincy by companies such as Microsoft, NTT. Sabey and Vantage, have also brought a big demand for IT jobs to the area.
"Today's hyper-scale 'cloud' data centers contain tens of thousands or even hundreds of thousands of computer servers, and are linked by powerful networks serving communications and data needs for individuals, businesses, organizations, and governments locally, nationally, and worldwide, said BBCC Computer Science Specialist Tom Willingham. "A data center technician installs, maintains, troubleshoots, and repairs a data center's computer and network systems including all hardware, firmware, and software problems that may arise."
But besides the IT occupations, the data centers also have many careers related to the critical infrastructure that supports them, including project management, people management, HVAC/cooling, building automation, physical and electronic security, diesel engine maintenance and general maintenance. Both IT and the critical infrastructure jobs may lead to many other rewarding pathways within the IT industry, said Willingham.
The college first offered the data center program in the Fall of 2017. The program utilizes work-based learning partnerships, which allows students to gain hands-on experience before graduation.
"The Quincy data centers and BBCC have collaborated to define the skills required for their IT and critical infrastructure entry-level positions," said Willingham. "This coursework will lead students to the technical proficiency in essential datacenter operations skills."
"We have hired several graduates from the BBCC Data Center program. With the skills they learn in the program, the graduates quickly elevate the productivity of our datacenter teams when they onboard," said Michael Wind, Site Operations Manager at the Microsoft datacenter in Quincy. "Microsoft supports BBCC's program through our Datacenter Academy initiative, which provides curriculum support, hardware donations, scholarships, and internship opportunities at Microsoft datacenters. We are proud to support BBCC as they prepare students to work in IT careers."
Students interested in the Data Center training program have the option of pursuing a two-year associate degree or several one-year certificates, including the Network Support Specialist Certificate of Accomplishment and the Systems Administration Certificate of Achievement. Starting salaries for entry-level data center positions are between $46,000-48,000 a year.
Students also have the option of pursuing the Manufacturing Process Technology (Mission Critical Operations Emphasis) degree, which prepares students for entry-level facilities manager positions where they could potentially make between $48,000 to $60,000 per year.
Students who are ready for more data center operations technical skills development will also have the option to earn industry certifications. After earning their associate degree, many will also be eligible to apply to Bachelor of Applied Science (BAS) programs around the state, including Big Bend's new BAS in Applied Management program.
The BBCC Data Center training program has new cohorts starting every Fall, with Winter and Spring start options.
For more information, visit the BBCC Computer Science program website.
Questions? Contact Tom Willingham at 509-793-2321 or [email protected]. Fall quarter classes begin Sept. 20.
Article Source: Big Bend Community College